Becky Marshall, not a fan of being photographed, wanted to share an ice cream moment with her dog, Hailey, but did not want to feed her anything that contained dairy products, preservatives, chemicals, or animal fats.
Being the creative person that she is, Becky set out to formulate an innovative solution: a healthy ice cream alternative for dogs.
Becky, a graduate of the Interior Architecture program at Columbia College Chicago, formulated all natural recipes for nutritious, refreshing and delicious frozen treats and thus, Polar Pups was born.
What began as a 'twixt semester endeavor selling Polar Pups frozen treats at farmer's markets and dog parks has grown into a thriving business.
Best of all, when Becky sits down for a bowl of ice cream as she does in every season, Hailey can join in the fun with Polar Pups. After a hard day of work, school, or play, these two pals can now enjoy dessert together.
What could be more perfect!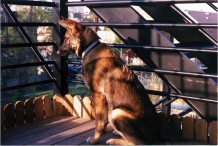 Hailey, the taste tester, chose Becky as her mom one fine Tuesday. Hailey, better known as the cordless chipper-shredder, was discovered at Chicago's Anti-Cruelty Society downtown on LaSalle Street.